Meet Aiko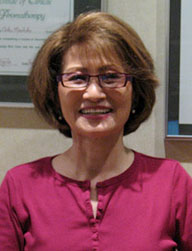 Aiko Mashiko is the driving force behind Bio Skin Care & Day Spa. Born in Japan, she realized at an early age that she wanted to be part of a field that encouraged women to recognize their full potential by looking and feeling their very best.

She started her journey by attending the prestigious Yamano Beauty College in Tokyo, Japan. When Aiko arrived in the United States, she continued her education at the Ohashi International School (esthetics), the Institute of Clinical Aromatherapy and the Christine Valmy International School in New York City. During this time, Aiko worked at various salons in New York and New Jersey gaining "hands on" experience and perfecting her skills. In 1985, this led her to Millburn, where she opened her own Salon – Bio Skin Care & Day Spa.

Aiko and her staff welcome you into the warm and relaxing atmosphere that her Spa exudes. A variety of services are offered – including facials, massages, esthetic services and holistic healing – that will help you on your journey to looking and feeling your very best!